The Who and The Why
Hi! I'm author C. Thomas Lafollette. I'm an indie urban fantasy author with a busy release scedule for 2022 and a lot of work to do to get there. I hope these posts provide some helpful hints/tips/tools to help you organize and advance your own writing.
I'm in the process of getting a bunch of books ready to publish in 2022, thirteen in fact. Did I say thirteen?! Yikes. So, the first thing you've learned about me is I make bad decisions on occasion. But, let's dig into how I'm managing this decision. Hopefully this will help you learn some new methods and tools for your own writing deadlines.
About me: So you can understand the time involved and can adjust according to your schedule, I'm going to give you the details of how my work/writing life is organized. You always see these things were authors tell you they made thousands of dollars, but conveniently leave out how many thousands they spent on advertising. I don't want to set up this big block of projects without giving you the background details.
I'm a self-employed freelance editor and book formatter and my partner works a full-time job. At the beginning of the pandemic, when I joined the millions laid off, we decided to invest in our business and tap into some of my savings. So, my work days vary depending on if I have client work or not. If I don't, I'm working on the business side of our writing business by setting up everything to launch my books or to support my partner's books. I tend to do my writing after the kid goes to bed for the evening.
The Books
Let's look at where I'm at with my books. I have publishing dates for all of them and have been working on them since 2017, though most of the work has been done in 2020 and 2021.
The Centurion Immortal – Book 0

Reader Magnet – Done and available

Dark Fangs Rising – Book 1

Integrating proofs, will be up shortly for ARC readers, Available for preorder

Dark Fangs Raging – Book 2

Integrating Developmental Edits, sending to copy editor soon, Available for preorder

Dark Fangs Descending – Book 3

Developmental edits done, waiting to integrate, Available for preorder

Blood Empire Reborn – Book 4

Developmental edits done, waiting to integrate

Blood Empire Avenged – Book 5

Developmental edits done, waiting to integrate

Blood Empire Burning – Book 6

Done, waiting for revisions

Ancient Sword One – Book 7

Done, waiting for revisions

Ancient Sword Two – Book 8
Ancient Sword Three – Book 9
Rising of the Centurio Immortalis – Novella Origin Story

75% done, Available for Preorder

Fall of the Centurio Immortalis – Novel, Historical adventure/romance

Developmental edits done, waiting to integrate

SECRET Novella
The Highway Centurion – Novella, historical adventure
Setting Goals
It took me a long time to write my first novel. I believe the first words and ideas were laid down in 2017. When I got more serious about writing book one, I finished a good chunk of it in NaNoWriMo 2018 (National Novel Writing Month), then finished it before NaNoWriMo 2019 when I started book two of the series. I worked on book three of the series as well as the accidental novel (plotted as 37,000 word novella that turned into a 77,000 word novel) in 2020. But in reality, I put the final words on Book 2 down in January of 2021. Book three, I put the last half of the words down in the first quarter of 2021, wrapping it up in March.
Those first three books took a lot of time, but along the way I learned what I could do and what worked for me as a writer. The result was I learned I could set reasonable goals and had the ability to achieve them. Initially, I'd planned about ninety days per novel in 2021. Once I did that, I pushed the goal down to seventy-five days. I blew passed that and finished book four in under sixty days. Same with book five and six. Then for NaNoWriMo 2021, I went for the whole shebang. I wrote the entirety of book seven in thirty days, all 95,052 words of it.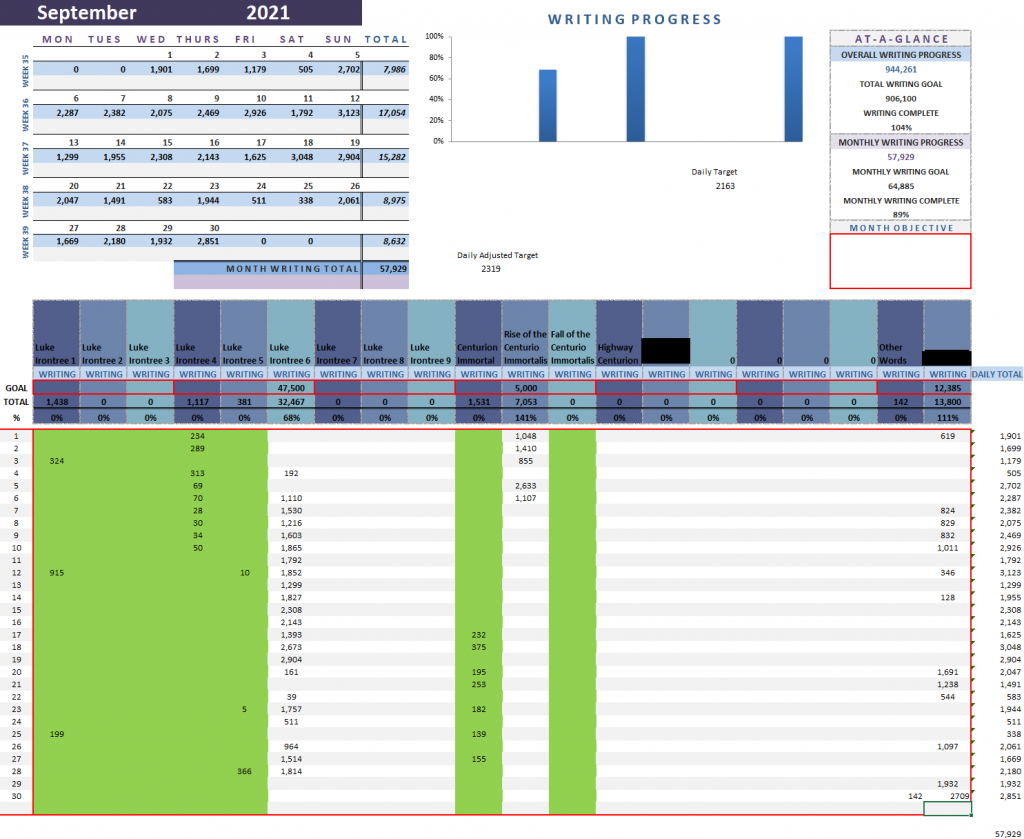 2021 was the first year that I set firm writing goals with deadlines. I set up my goals for the year in late January. Green columns indicate that those books are done with the first round of drafting. Numbers in those green columns are from revisions and editing. As you can see, I often work on a lot of projects simultaneously which will be discussed in more detail in the second post on this topic. But before that, here is a look at my basic writing goals for the year. The big picture goals that help me build out the smaller goals and specific deadlines.
Write everyday, 100 word minimum to count the day
Average 2,000 words a day by year's end.

Some months I was over, some months I was under, but I'm on target to hit this.

Finish four novels

I've blown this out of the water with the successes I've had this year

Book my editing and covers for all the books
So far, I've hit those writing goals for my novels. I've had some writing goals for the novellas that I haven't hit, or rather I've had to adjust them. Not being afraid to adjust goals has been a big piece of my ability to not get overwhelmed.
Being Flexible
The big key to my success has been being flexible about my goals and adjusting my deadlines when I need to. This year, the deadlines have all been self-imposed. But having them has definitely helped push me toward hitting them. And as I've exceeded my goals and hit my deadlines early, I've adjusted them to take in the new information into account. Now that I've set publishing dates, the deadlines are becoming much more rigid, especially since the first four releases are up for preorder wide.
Having deadlines is key (ymmv), but making them too rigid and inflexible sets yourself up for failure. The point of a self-imposed deadline is to set a target. If you make a mistake and set too tight of a deadline or life happens, then change the deadline. You're not a failure if you change your deadlines or tweak your goals, you're just being practical and keeping yourself on target for your ultimate goal – finishing your book!
Next Time
This post is already long, but I'll continue with some of the tools and techniques I've used to help keep track of my goals and deadlines and hit them. In the mean time, How do you set your goals? What works for you? What doesn't?
---